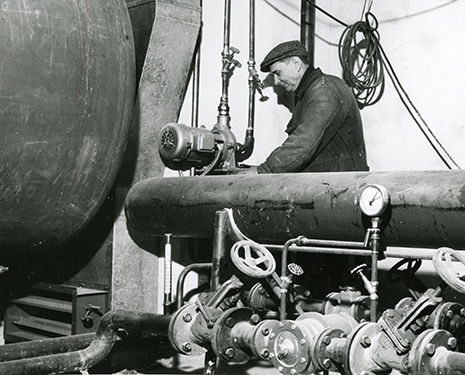 ARE History
ARE is part of the Conficap Group, which is a significant Finnish family company.
ARE is part of the Conficap Group, which is a significant Finnish family company, with a history stretching back for a century. The ownership of the company has stayed within the same family since it was founded.
1913 the origin of ARE
On 19 February 1913, a businessman named Alfred Onninen established a plumbing business in Turku that operated under the name A. Onninen. In 1927 the focus of the operations was transferred to Helsinki and the Onninen Plumbing Company was established.
The company expanded into the wholesale trade in the 1920's and by 1930's this had overtaken contracting work.
After the Second Worlds War the company began to build a network of business location all across Finland. Municipal engineering became part of Onninen's business in the 1950's, followed by ventilation and air conditioning in the 1960's.
The 1970s saw Onninen enter the electrical business and engage in delivers to industrial clients and international project exports for example to Soviet Union and Middle-East.
In the 1990's ARE became responsible for installation and maintenance operations
Major corporate acquisitions we made in 1990s. ARE Group, an established and reputable electrical company from central Finland, became part of Onninen cluster of companies. The end of century saw the formation of the Onvest Group and a clear differentiation of operations: all installation and maintenance was to be undertaken by ARE and the wholesale operation by Onninen.
The ecological energy efficiency system ARE Sensus® was launched.
The 21st century
ARE has continued actively develop its business in the he current century. From building services contracting, ARE has expanded into both property and renovation services.
In 2009 Maarit Toivanen, who has the Finnish honorary title of Vuorineuvos became the Chairman of the Board of Directions of ARE.
2014 ARE takes a leap forward
ARE bought Lemminkäinen's technical building services in 2014. With this acquisition ARE became the largest building services provider in Finland. Further personnel strength more than doubled.
2018 expanding to Sweden
In 2018, ARE expanded into Sweden by purchasing Kungälvs Rörlägger, the leading pipe contracting and maintenance company in the Gothenburg region.
In 2020, ARE continued to expand in Sweden by purchasing Climat80 Gruppen, one of the leading building technology companies in southern Sweden. With the company acquisitions, ARE is able to offer all building services for the entire life cycle of real estate in Sweden as well. Find out more about Swedish operations at www.are-group.se.
Looking forward
In accordance with our company's strategy, we build and maintain a sustainable society. Read more about our strategic goals from the following link.