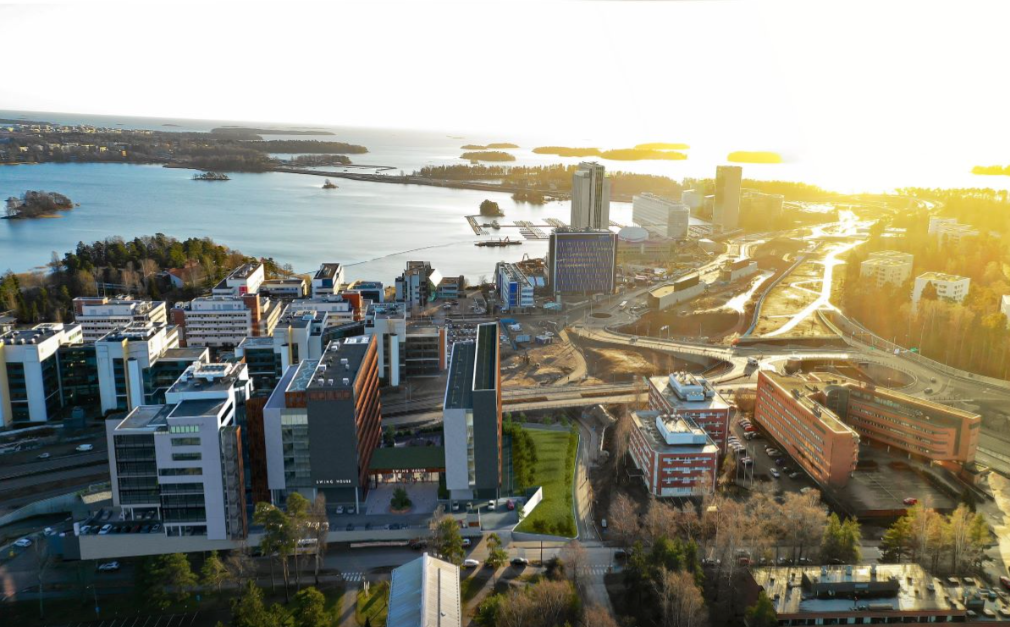 Swing House, Espoo
The building complex's technical systems were implemented using the energy-efficient ARE Sensus system.
The recently completed Swing House in Keilaniemi, Espoo, prioritizes the well-being of its occupants and environmental friendliness. The building's technical systems were implemented using the intelligent Are Sensus® system.
The building automation, plumbing, ventilation, and electrical contracting of Swing House were implemented using the energy-efficient Sensus building technology system. Sensus helps achieve significant benefits by efficiently integrating heating, cooling, and ventilation.
The system operates by efficiently harnessing free energy sources, thereby reducing the building's reliance on purchased energy. Swing House is pursuing WELL v2™ Gold certifications, which demonstrate the commitment to enhancing the health, comfort, and performance of the building's occupants. ARE is also dedicated to integrating these principles into the implementation of building technology.
"The environmental aspect played a significant role in the project. Our energy-efficient Sensus system is capable of meeting environmental goals by reducing the need for external energy purchase by up to 30 percent. Sensus is designed as a sustainable solution throughout the entire life cycle of the building," says Katja Pekkanen, Director at ARE.
The Sensus system also controls the indoor conditions of Swing House, which connects the office tower and the hotel. Supporting well-being in the workplace, such as providing high-quality indoor air, is an important aspect of office workers' daily lives. The draft-free and silent Sensus system ensures pleasant conditions for hotel guests as well
The construction progressed smoothly in collaboration with the contractors.
ARE was responsible for the comprehensive technical building solutions in the project. The real estate companies owned by the pension insurance company Elo acted as the client, and Peab served as the main contractor. Despite the challenging circumstances during the exceptional times, the project was completed on schedule. The office building was completed at the end of 2021, and the hotel was completed in early 2022.
"The collaboration throughout the project was excellent. The project was well-managed, and tasks were carried out systematically, adhering to the schedule. Swing House is located in a central location, and it was a great opportunity to work in the growing area of Keilaniemi.", says Pekkanen.
FACTS ABOUT THE PROJECT:
Project: Swing Plus C (office) ja Swing Plus A (hotel)
Location: Keilaniemi, Espoo
Builder: Pension insurance company, Elo
Contractor: Peab
ARE role: LVISA implementation with ARE Sensus building technology system.
Model: KVR
Size: 22.700 brm²
When: 2020-2022
30%
reduction in external energy procurement with Sensus system.